Wired Ribbon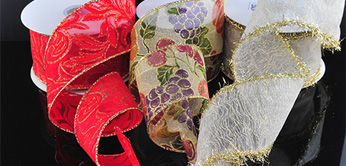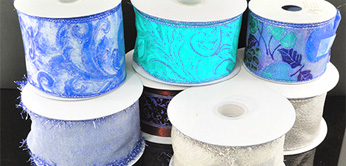 One of our most popular products is the Wired Ribbon. Our Wired Ribbon Singapore can be used to enhance the gifts and holiday decorations. Our wired ribbon is of a heavier, rougher ribbon fabric. Due to the texture of this fabric, it is possible to get super creative with the way you tie it around gift packages. It is available in sheer, solid, metallic, plaid and stripes. In our website, we are unable to showcase the thousands of wired ribbons that we have because we have far too many different design and different model. We encourage you to come down to our showroom at 798 North Bridge Road to come and see for your own eyes. You also also use this trip to touch and feel the various wired ribbons available.
Do take note that wired ribbon is fantastic for both corporate and non-corporate purposes. Many of our customers have initially thought that wired ribbons are more for non-corporate events or usage. However, after using our wired ribbons, they found out that it can also render brilliant effects for corporate usages. The sky is the limit and the creativity of wired ribbon really knows no bounds!
As one of the most experienced and reputable wired ribbon Singapore specialist, we take pride in our work and we're sure we can be of some use to you. You can also tap on our knowledge as we have seen so many usage of our wired ribbons over the years. The application, display and various combination with other forms of ribbons can really be brilliant if used well. 
In terms of the pricing, we are also one of the cheapest wired ribbon suppliers in Singapore so that you take your pick and purchase more without any worry on costing. Alternatively, you can let us know your budget and requirements and we can assist you approprirately.
For more information on Wired Ribbon Singapore, please contact us.
Tips for Gift Wrapping with Wire Ribbon
Elaborate Bows
Do you know what is the best advantage of using wired ribbon to do yours bows? Yes you're right! It is their ability to stay rigid. Use this to your advantage and create a large bow with large, fluffy loops and crinkled ends.
Due to the wire, your bow will stay in place even during movement. The recipient of the gift will be so happy and blown away by the intricacies and detail of your amazing hand-crafted bow.
Secured Ribbon
It is very difficult to keep a ribbon or bow securely in place on top of a gift package, so to keep your wired ribbon stuck to the wrapping paper instead of sliding off, use a hot glue gun on the bottom of the package between the ribbon and the paper.
This is a great way to keep the top part of your gift looking spectacular while hiding your secret on the bottom. Wanna know the best part? The ribbon and bow on the top of the present will get all of the attention before the package is opened, so no one will figure out your secret.
Keep it simple and don't prick your fingers!
The wrapping and decorative wired ribbon bow on your present will wow everyone at the party–just be very careful not to prick your own fingers!
To keep your hands safe of this pain, be sure to bend any pieces of the wire that are sticking out at the trimmed edges after cutting your wired ribbon down to size. Your guests and their hands will thank you for the thoughtfulness.
Keen to learn more about ribbons, especially Grosgrain ribbons? Click to find out more!