Grosgrain Ribbon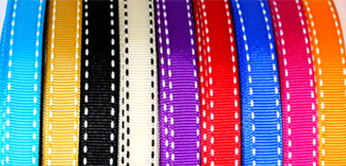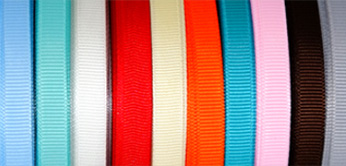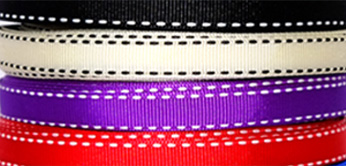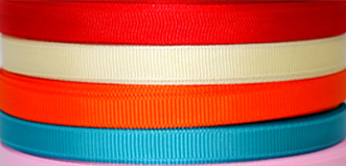 Over at The Ribbon Shop, we are very proud of our grosgrain ribbon product. Grosgrain Ribbon Singapore is a type of fabric characterized by its ribbed appearance (most of the time, its made up of heavy, stiff ribbon of silk and nylon). It is close-woven and fine-corded fabric. Our grosgrain ribbon are woven via taffeta weave using a heavy weft, which results in distinct transverse ribs. Our Grosgrain Ribbon comes in a large variety of colors and patterns.
Grosgrain fabric usually comes in black color but we do have a large variety of colors and patterns for you to choose from! There are literally thousands of different pattern and permutation and we are unable to showcase all the images on our website. Some of our most popular grosgrain ribbon includes our polka dots design, striped ribbons design and etc. Our grosgrain ribbons are suitable for gift wrapping, crafting or even lanyards! To summarise, it is suitable and versatile for both corporate and leisure usage. Let your creativity rules!
As one of the leading grosgrain ribbon supplier in Singapore, we have handled hundreds and thousands of customers' requests without fail. Our grosgrain ribbon Singapore is great in variety and we're proud to share that we are one of the cheapest grosgrain ribbon company in Singapore.
Some of our more popular grosgrain ribbon includes our polka dots and stripe ribbons for gift wrapping and crafting purposes.
On a side note, if you are looking for other types of ribbons such as Ultrasonic Ribbons, Nylon Satin Ribbons, Metallic Ribbons, Wired Ribbons or even fully customized ribbons, we humbly ask that you contact us via phone or email. We will be glad to be of service to you.
For more information about Grosgrain Ribbon Singapore, please contact us.

4 Out-of-this-world tips to let you buy Grosgrain Ribbon!
Are you looking to buy grosgrain ribbon or you are committing to buy a large order? Are you unsure about what to do next or just need some plain, simple advice? You're in luck! We've compiled 4 simple and yet out-of-this-world tips to help you make a better purchasing decision for your Grosgrain Ribbon! 
1)    You must know that by adding a ribbon, it adds an extra glamour to your decoration. Grosgrain ribbon, wired ribbon, ultrasonic ribbon can all do the job. However, none can do it as well as Grosgrain Ribbon can
2)    If 1 of your main consideration is to have long lasting ribbons, then Grosgrain Ribbons are the ones for you. On a side note, they are also very affordable!
3)    If you can't commit on that particular day, feel free to drop by the shop again. Over at The Ribbon Shop, we always encourage our clients to drop by as many times as they want to ensure that the grosgrain ribbons they are buying is the best choice for them!
4)   When it comes to a wedding party or a birthday party, no ribbon does it as well as Grosgrain.