Customised Ribbon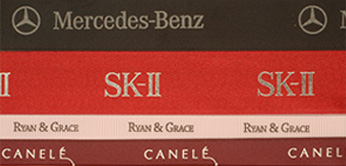 Looking for customised ribbon services to suit your corporate/leisure events? Look no further! Order our Customised Ribbon Singapore with your logo and artwork for corporate advertising, product branding and occasions such as wedding favors and/or anniversaries. We have worked with many organisations in Singapore such as SMEs, MNCs, Governments and etc. Due to NDA and customer confidentiality, we are unable to disclose our customer list online but we will be glad to share with you on our knowledge and experience when it comes to customizing your ribbons for your specific usage. 
Our customers have always come back to us for their various ribbon needs because of our high efficiency in responding to their order request; as well as our unmatched expertise and quality. With our decades of experience in the customized ribbon line, we are confident that we can be of great service to you.
With our great variety of ribbons such as grosgrain ribbon, nylon satin ribbon, metallic ribbon, wired ribbon and etc, we are sure we can be your 1 and only stop for your ribbon requirements.
Two of our most popular products are our grosgrain ribbon and our nylon satin ribbon. We would be most happy and willing to show you our various portfolio done before. To do so, we would like to humbly invite you down to our showroom to view the wide variety of projects that we have done before. We can also drop by your place to show it to you but because of logistical reasons, we are unable to bring all that we have done before to your premise.
Our Customised Ribbon Singapore is full of great choices for every budget. Tell us your idea and we can definitely work it out for you!
For more information about Customised Ribbon Singapore, please contact us.